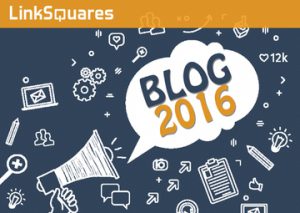 Every year we do our best to provide the readers of this blog with quality content that we believe can help drive business and reduce risk for our clients, and 2016 was no different. We know that many of our readers are incredibly busy and may have missed some of our posts.
That's why we've gone through and gathered the content that's gotten the most traffic and social shares; the posts our readers have told us gave them the biggest insights and actionable steps. So, without further ado, here are the top 5 blog posts of 2016.
1. New eBook Launch! "Contract Negotiation Playbook 101"
In the legal world, contract negotiations are critical and teams are always looking for an edge to ensure success. How? By developing certain skills and strategies that will help team members deal with unforeseen scenarios.
Our playbook outlines the exact skills needed to overcome objections as well as handle questions and concerns like a pro. Plus, we present real world common scenarios and typical outcomes so you'll never be caught off guard. Simply put, this is a playbook every legal, finance and sales team needs in their arsenal.
2. Startup Legal Outlook Q&A with Scott Bleier – Veteran Startup Lawyer
LinkSquares had the pleasure of sitting down with Scott Bleier, a veteran member of Morse, Barnes-Brown & Pendleton's practice group. Scott focuses on the representation of entrepreneurs, start-up and emerging growth companies, and venture capital investors. His specialties include corporate and securities law, private financings, and mergers and acquisitions.
If you're an entrepreneur or legal advisor working with new business owners, this blog post will give you some terrific insights into the financial and legal challenges facing today's startups
3. 5 Keys to Legal Incident Response Management
Is your organization prepared for a worst-case scenario like a security breach? When even huge brands like Walmart and Target are vulnerable to cyberattacks, it makes companies of all sizes sit up and wonder how they would handle a breach or legal incident.
Today's volatile digital landscape makes it more important than ever to have a response plan in place. Don't hope for the best, read this blog post instead to learn what you can do to establish a successful response plan.
4. 5 Benefits of Contract Tracking
Just as marketing teams must continuously prove their value to an enterprise, so must legal counsels. Drawing up solid contracts is only half the battle; the other half is organizing them in a way as to ensure you can consistently retrieve critical insights that support the revenue function of the company.
How are you currently storing your contracts? Do you utilize a comprehensive contract management solution? Do you look for ways to increase accuracy in your decisions and efficiency in your workflows?
This blog post tells you exactly why all legal counsels should spend more effort on tracking contracts.
5. Top Resources for In-House Counsel
At LinkSquares, we believe it takes a village to support in-house legal counsels. That's why we are always in search of partners that can provide our readers with new information and insights needed to effectively run their departments.
In this post, we present other terrific legal blogs that provide awesome information for corporate counsels and their teams.
BONUS POST
It's the holidays and I guess we're in a very giving mood, because we've decided to include a bonus post. This one also saw a ton of traffic this year, most likely because it talks about something no one else is really talking about, and that is the fact that, as amazing as Salesforce is for sales, support, and marketing, this particular cloud solution just doesn't offer the tools needed by internal legal teams.
If you've been forced to try and adopt Salesforce but are having one heck of a time getting it to work the way you need it to, stop stressing and read this blog post instead!
Why Salesforce Isn't for Legal Teams
We're already hard at work creating content that we believe will help our readers in the coming year, so be sure to bookmark us and visit each week. Thanks again for a great 2016 from the team at LinkSquares!