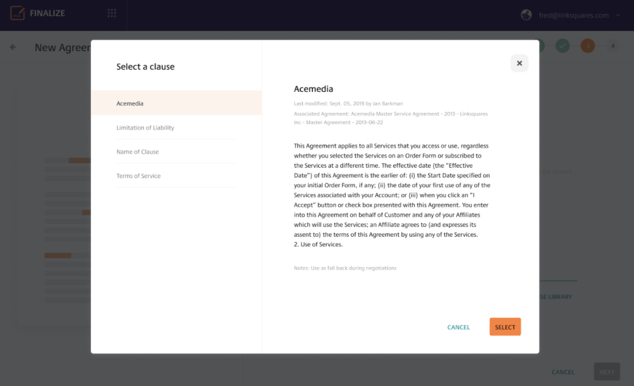 It's been a busy couple of months here at LinkSquares! Today, we're excited to spotlight our latest features, built based on feedback from our customers. Let's check them out.
New Smart Value: Termination for Convenience Opt-Out
This Smart Value helps customers track and be proactive about potentially cancelling contracts before the termination opt-out window closes. Missing this window can mean that a contract auto-renews unintentionally, which can be costly. This Smart Value extracts the number of days a Party has to completely terminate the contract without cause, for any reason, at any time.
Clause Library Integration
Determining the right language to use in contracts can be complicated. And when you do find the right language, you want to standardize it across your agreements. We're excited to make that even easier for you. With our Clause Library Integration, you can easily save preferred clauses or groups of clauses in Analyze and then drop them into new contracts you're creating with Finalize.
Attachments in Finalize
There are often several documents associated with one business deal. Exchanging them offline or over email is inefficient and adds time. As a result, agreements can take longer to approve. You can now upload additional files as an attachment that lives with the agreement.

Additional File Types Including .pdf, .xlsx, and .doc in Finalize
Customers often use multiple file types to transact legal business, particularly on 3rd party paper where the document type they receive is largely out of their control. We've expanded the number of file types that you can use with Finalize to include .pdf, .xlsx, and .doc in addition to .docx files.
Template Search in Finalize
This feature saves time by allowing users to search for templates while drafting agreements in Finalize. Users can search across both the title and description of the template.
That's a wrap for now, but we've got more exciting stuff in the works. Stay tuned! And, if you want to learn more about how we can help you revolutionize your contract management by giving you even faster access to contract insights, contact LinkSquares today.