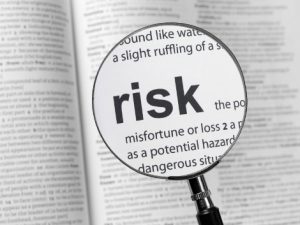 We all know how important cybersecurity is today. Enterprise data, personal data and everything in between can be stolen or copied with the click of a button. Slowly but surely, people are becoming more and more aware of the risks associated with storing enterprise data online. This trend is especially relevant to legal departments.
In the first part of our Legal Risk Assessment we covered contracts risks. In this second part we cover security risks using this recent survey. It covers a poll of General Counsels in numerous companies to help identify major risks. This section highlights four key stats that are worth a review for anyone working on a in-house legal team.
52% of General Counsel's identified cybersecurity as the number one risk.
This was the biggest statistic in the survey, but not one we were surprised to hear after talking to our customers at LinkSquares. Data privacy concerns followed close behind with 50% of respondents citing this as another huge area of concern.
This gives you a solid idea of most companies legal perspective today. Preparing and working with the IT and information security teams to make sure their company is protected from security vulnerabilities, but also prepared in the event something happens.
Only 29% of the General Counsels polled say they are ready to handle the legal response to a cybersecurity breach.
In a time where a large majority of application data is stored online, or in 3rd party cloud applications – this number is equally surprising. When your documents (and other pieces of crucial information) are not properly safeguarded, you put the entire business at risk.
Since only 29% of General Counsel's are ready to handle the aftermath of a cyber-attack, you may be wondering how likely it is that your company is the target.
33% of General Counsels said they had been hit with a data or security breach last year.
Wow, 1 in 3 companies experienced a data or security breach last year and its certainly possible that number could be higher. Why? Because most companies who've had this problem don't want to disclose that an incident like this happened.
The key difference in the two numbers above shows that more companies have been hit with a security breach (33%) than were actually prepared for the attack (29%). It's scary that in 2016, not all companies with confidential technology, IP, and customer data are ready to protect and defend it.
20% of respondents aren't even part of the cybersecurity policy creation.
As one of the most affected parties in any security breach, this is an interesting stat. Any company not having a legal specialist involved in the creation of the policies and documentation around security is running a big risk.
If you are part of an in-house legal team make sure you or someone from your team has a seat at that table. Its important to represent the need for compliance and proactive risk management.
Summary
Statistics like these generally bring up some follow-up questions. Here are a few that may be good to review for yourself:
Am I ready to handle the legal repercussions of a cybersecurity incident?

How likely is my company to be hit with a data or security breach this year?

As a General Counsel, what is my role in the cybersecurity discussion?
These are all good things to think about and discuss with other company executives. One area that our product, LinkSquares, can help is in the search and reporting process for unique contracts and their stipulations. You can easily search for specific terms like "security breach" and see results of clauses in any customer agreement you have.
In the spirit of this security discussion, its worth noting that the entire LinkSquare product is architected in a way that complies with the strictest international and industry-specific standards. Every contract inside is safely encrypted at transit and rest. You can learn more about LinkSquares security here.
Review the three questions above and if using a tool like LinkSquares could help save your business time, costs and risk then reach out to us.