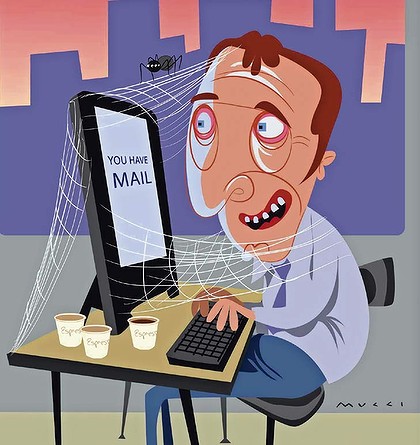 A recent McKinsey article says the average worker spends 28% of their week on email. With the working population working 2000 hours a year, that means American workers spend a 560 hours on email every year.
Its important. It's the central communication hub for companies. Announcements, events, requests all fly in everyday for action. People tolerate it, but for some reason everyone feels like it could be improved. They try to organize things, 'star' emails, mark them as important, but it usually doesn't work.
So we check it incessantly, at their desk, in meetings, at lunch, on the way home. Mostly in an effort to keep their inbox under control. Deleting, archiving, responding.
In a recent Inc Magazine article the author declared email would be obsolete by 2020 because of better alternatives becoming available:
What's going to happen to digital communication over the next five years? Will we still be weeding out unimportant messages and fishing through enormous email chains trying to find one pesky link to a business plan? I sure hope not.

I'm predicting that a new communication channel will replace email by 2020. In fact, there are already signs that business is starting to move away from email as a primary form of digital communication.
LinkSquares wants to be at the center of that transition. By helping to take some of that excessive email to a separate platform that helps organize key information outside of email. A place where employees can share company news, updates, and other ideas in one place.
Have a great article or meeting notes you want to share? Don't bombard everyone's inbox! Post it in LinkSquares so folks can review and comment in a place that everyone can browse at their own speed. And a place they can find easily if they happen to want to review it again in the future.
Lets be honest, corporate email clutter is a big problem. A study by the research firm Radicati estimates corporate users are now dealing with 200 emails per day. Middle managers spend 100 hours a year on irrelevant email, according to another study by The Grossman Group. That study also says companies experimenting with email black-outs or time-outs are taking the wrong approach. It argues email misbehavior needs to be addressed, not bans.
So thats one of the areas that LinkSquares wants to help companies, at least get some of that non-urgent email out of the employees way. Those chatty email threads where everyone hits reply to all? Move those into a comment string around the file or original note it was created for. Allowing the inbox to be for important communication with customers and potential customers.