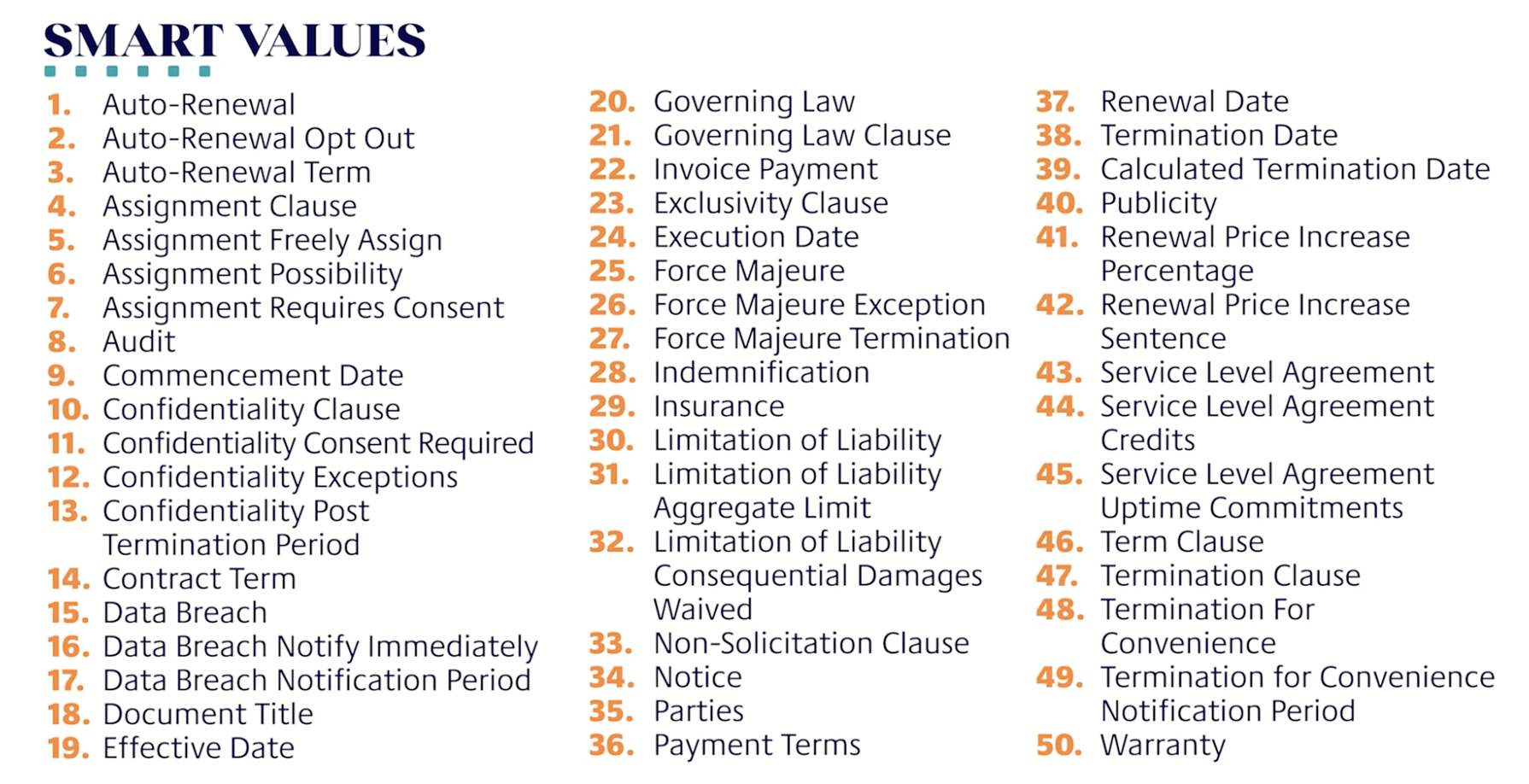 We're starting the year off strong here at LinkSquares! Today, we're excited to spotlight an exciting milestone -- we now offer 50 Smart Values. This feels like the perfect time to highlight 5 Smart Values that we've created, specifically based on feedback we've received from customers on key data they'd like to extract from their contracts.
Smart Value #1: Document Title
With this Smart Value, LinkSquares extracts Document Titles to quickly and easily identify specific groups of contracts and run reports on specific document titles such as Order Forms, SaaS Agreements, Sponsorship Agreements and more. For example, you can run a report on documents with the words "Sponsorship Agreement" in the title and the words "Renewal Price Increase" in the contract to see which of your sponsorships are subject to a renewal price increase.
Smart Value #2:
Exclusivity Clause
The Exclusivity Clause Smart Value is all about helping identify which customers or partners you have exclusivity with and surfacing this information quickly with a dedicated value for ease of analysis and reporting. Now, you can build reports based on the Exclusivity Clause and use this information to inform Sales and Marketing promotional activities and M&A diligence.
Smart Value #3: Non-Solicitation Clause
This Smart Value helps quickly identify which solicitation restrictions you have with your employees, customers, or partners. This information can be useful during mergers & acquisitions and for employee and vendor agreements to help you protect your business from poaching.
Smart Value #4: Renewal Price Increase
This Smart Value identifies the sentence in your agreement that outlines the terms of a Renewal Price Increase such as: "XYZ may increase the fees for the hosted Software on an annual basis provided that such annual Increase will not exceed the greater of 4% or the Increase in the Consumer Price Index (CPI)". Having this information helps forecast and plan accordingly around upcoming renewal deadlines and better prepare for renewal renegotiations.
Smart Value #5:

Renewal Price Increase Percentage
This Smart Value highlights the Renewal Price Increase after your annual subscription is up. With this Smart Value, you can keep an eye on price increases so that a more expensive renewal doesn't occur without your knowledge or prior forecasting and planning. Using Renewal Price Increase Percentage, you can also run reports on contracts renewals based on percentage number to identify which contracts you would like to revisit or renegotiate.
Here's to 50 Smart Values, we can't wait to bring you more! Check out this page to learn more about Smart Values. And, if you want to learn more about how Smart Values can help you revolutionize your contract management by giving you even faster access to contract insights, contact LinkSquares today.