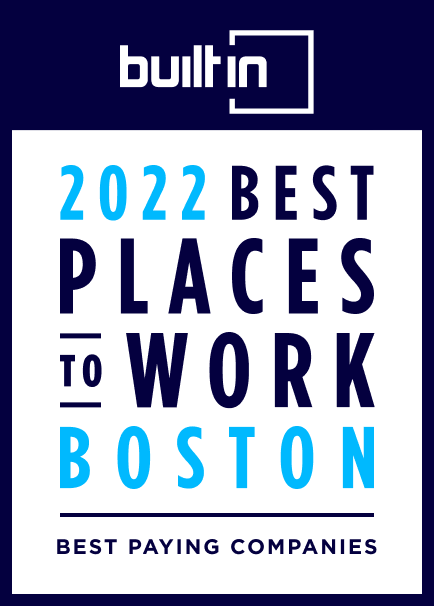 We're excited to share that LinkSquares has been included on Built In Boston's 2022 Best Places To Work list! The annual awards program includes companies of all sizes, from startups to those in the enterprise, and honors both remote-first employers as well as companies in the eight largest tech markets across the United States. LinkSquares ranked #33 for midsize companies in Boston.
Built In's Best Places to Work Awards, now in its fourth year, honor companies across numerous categories: 100 Best Places to Work, 50 Best Small Places to Work, 100 Best Midsize Places to Work, 50 Companies with the Best Benefits and 50 Best Paying Companies, 100 Best Large Companies to Work For, and 50 Best Remote-First Places to Work.
Built In determines the winners of Best Places to Work based on an algorithm, using company data about compensation, benefits and companywide programming. To reflect the benefits candidates are searching for more frequently on Built In, the program also weighs criteria like remote and flexible work opportunities, programs for DEI and other people-first cultural offerings.
Thank you to our LinkSquares employees for helping us make this list. Since 2015, we've been at the forefront of AI-powered contract and legal document analytics. Watch this video to learn more about LinkSquares, our funders, and the story behind the company's inception.
What matters most to us at LinkSquares?
Putting customers first: Delivering real results for customers — whether it's time saved, costs reduced, or headaches eliminated — is our goal. We make business decisions with our customers in mind, always.

Challenging ourselves: Whether it's by using the latest technology, learning a skill, or experimenting with a new strategy, we are constantly pushing the envelope and discovering new things.

Working as a team: We do our best work together and have built a collaborative environment to support that. From day one, you'll work with people across the company at all different levels.

Providing growth opportunities: Career growth can take different paths. Whether your vision of success is becoming an expert at your craft, managing a team, or learning something new, your manager will work with you to develop those skills.
Even more great news, we're hiring! Check out our open roles here.