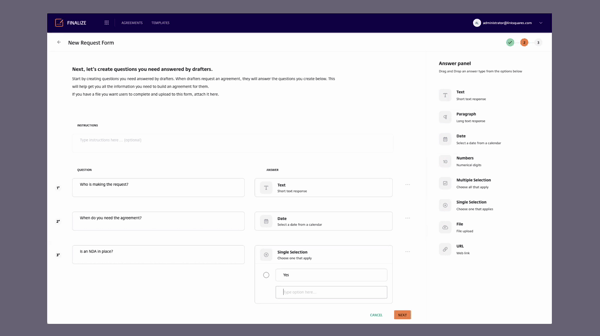 Nobody knows contracts better than your legal team. From the specific "legalese" to the counterparty's name and address, every detail needs to be accurate before an agreement can be sent to external parties. To ensure legal is involved in the earlier stages of a contract and can dictate which contracts require more oversight, LinkSquares has released Agreement Request in Finalize.
With Agreement Request, your legal team will ensure they are involved in the entire contract creation process.
Agreement Request will help your team write better contracts faster by:
Giving your legal team more control over what type of agreements are drafted with the ability to distinguish between self-serve contracts and more complex contracts that would require input from Legal.

Minimizing risk by getting legal teams involved in the contract creation process earlier on to ensure the right language and details are included.

Providing increased flexibility to structure contract creation processes based on your legal team's needs such as creating a request process for specific contracts and a self-serve option for others.
To learn more about how Agreement Request can give your legal team more control over your agreements, visit the Agreement Request Page and contact us today!