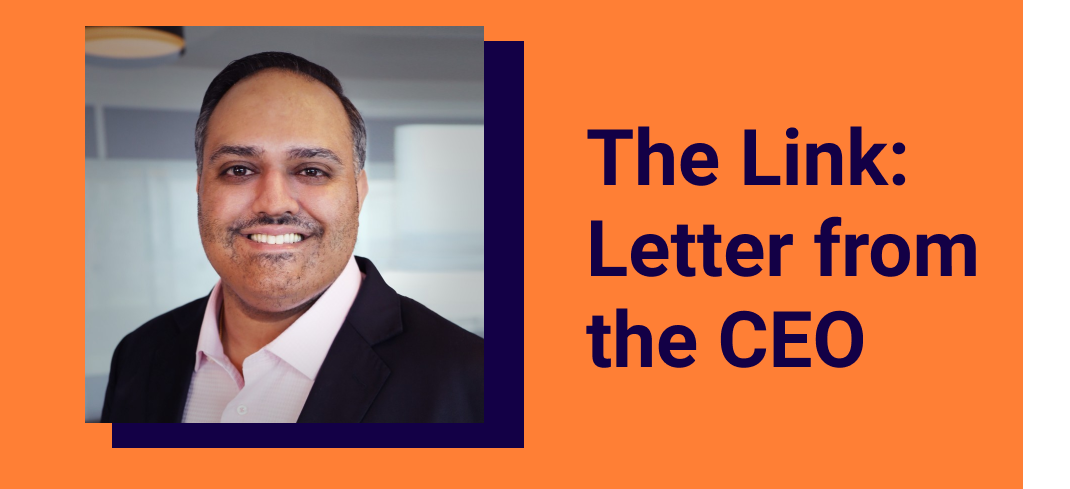 I'd like to welcome you to the first edition of The Link, our new quarterly newsletter.
When I first set out on the LinkSquares journey in 2015, I spoke with more than 100 General Counsels across the country so that I could better understand their pain points. Those conversations were some of the most valuable in my professional career, and they set the tone for how we operate as a company. We continue to drill into the needs of our legal customers by asking the hard questions and by creating products that help to answer these questions.
Today, our conversations include a great deal of discussion about what the office will look like in the future. It is safe to say that while COVID didn't change the GC or CLO role itself, it made doing it harder. Teams have been dispersed, and while many organizations are planning for a return to the office, there is near consensus that not everyone will be in the office, all of the time. From different geolocations, to work from home, to an office hybrid structure, it is clear that leaders will be managing a distributed workforce much of the time. This presents its own set of organizational and functional challenges.
As anyone who briefly tried accessing their antiquated contracts database via VPN over the past year can tell you, the process is painful. Moreover, collaborating on contracts across physical locations or functional groups is notoriously challenging. I am proud to say that cloud-based technologies like ours are improving contract review, management and search.
LinkSquares is proving to be a useful tool for distributed legal teams and their internal business partners in sales, procurement, and finance. Today, we're helping 300+ organizations with their contract management, including new customers such as Wayfair and TGI Fridays.
I believe we're doing our part to make remote or distributed work more manageable for legal teams, all while improving speed, outcomes and insights. When a new customer said, "LinkSquares is what dreams are made of," it was music to my ears. That level of value is what we set out to bring to the legal community. That is what we continue to strive toward.
My vision for the company is to build a true legal operating system. Some of you have heard about this through conversations and product testing, but for those who haven't, we're headed toward a platform that gives legal teams a unified view of all stages of the contract. That platform will support a rich suite of products specialized for the legal community. Sales teams have Salesforce, support teams have Zendesk, marketing teams have HubSpot, and we believe that legal teams will have LinkSquares.
As of today, we're helping teams manage every step of the contract process, and bringing data insights to legal executives that are critical to your success. If you know what is in your contracts - if you're on top of what the business is committed to - you're clear on corporate risk.
As for the future? Well, all I can say is stay tuned. I predict we'll be launching two new products by the end of 2021. We're laser focused on the needs of our legal customers, and we'll continue to bring forward products that are designed to make doing your jobs easier.
I hope you enjoy the brief articles our team put together that highlight current and future legaltech trends.
If you'd like to be included in future product conversations or participate as a beta tester for new products, drop me a line at vishal@linksquares.com.
Subscribe to the LinkSquares Blog
Stay up to date on best practices for GCs and legal teams, current events, legal tech, and more.