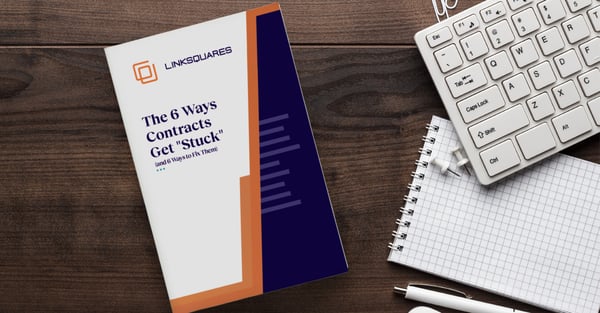 Many organizations adopt contract dashboard solutions in the hopes of improving revenue but, all too often, these businesses learn that installing a dashboard is only the first step towards ironing out the problems in your contract pipeline. You also need to know what to do with the data your contract dashboard provides.
To answer that question, LinkSquares developed our latest eBook: "The 6 Ways Contracts Get 'Stuck' (and 6 Ways to Fix Them)".
Contracts close deals, so delays in contracts delay and decrease revenue. You can minimize delays and maximize revenue by adopting a contract dashboard solution, which tracks contract development through each stage of the contract lifecycle:
1.
Draft Stage
, when contract language is first put together
2.
Redline Stage
, when all parties make suggested changes to the agreement
3.
Finalize Stage
, where redlines are negotiated and incorporated
4.
Clean Stage
, when the contract is ready for signature

Contracts can be delayed or even abandoned in each of these stages for various, typical reasons. Simply knowing that most of your agreements get bogged down in the Redline or Finalize stage doesn't tell you how to fix the issue.
With "The 6 Ways Contracts Get 'Stuck' (and 6 Ways to Fix Them)", you'll learn the common causes of the delays that show up in your contract dashboard, and get advice on how to apply software and management processes to get your contracts "unstuck" from your deal pipeline.
Without this advice, your contract dashboard will just be another sunk cost dragging down your contractual revenue.
If you want to minimize contract delays and maximize the ROI of your contract dashboard investment, download "The 6 Ways Contracts Get 'Stuck' (and 6 Ways to Fix Them)" now.
And if you want to adopt an end-to-end contract automation solution -- one that gives you the tools you need to find and fix delays in your contract development processes -- contact LinkSquares today.