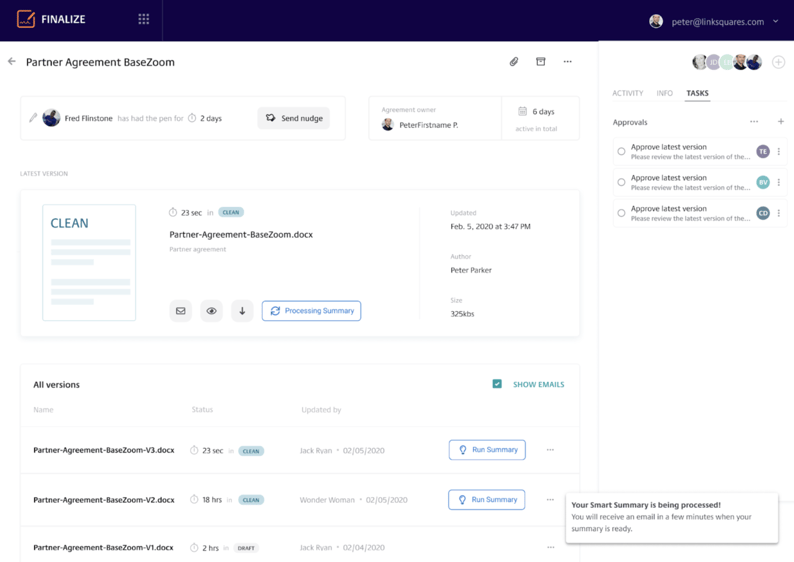 Here at LinkSquares, we're on a mission to revolutionize the legal industry by building artificial intelligence (AI) into every step of the contracting process, freeing legal teams from manual processes to focus on what matters most. We started by building AI into our post-signature product, LinkSquares Analyze. Leveraging our proprietary AI, Analyze helps legal teams accelerate their post-execution and analysis processes by surfacing key terms and eliminating manual work. This AI powers many of the features that LinkSquares customers know and love, like Smart Values and Smart Admin.
The next step in our journey is to bring AI into the pre-signature process - something that no contract lifecycle management (CLM) solution has done before.
We are excited to announce that LinkSquares now offers AI in the pre-signature process with AI-Powered Contract Review in LinkSquares Finalize. We're extending the power of LinkSquares' AI into Finalize, our pre-signature tool, offering the market's first end-to-end AI-powered CLM platform. This provides legal teams with access to more insights and data than any other pre-signature solution, allowing them to speed up their contracting process, focus on contract negotiations, and minimize risk throughout the review process.
Working off third-party paper leads to long and difficult negotiations. Reading through every term is time-consuming and slows down the contracting process. AI-Powered Contract Review in Finalize takes the burden of this manual process off your legal team by quickly surfacing key terms, your Smart Values, within your agreements.
Now, your legal team can quickly hone in on important contract terms without any manual effort. With a streamlined review process that automatically surfaces the most critical terms and clauses, painful contract negotiations are now quick and seamless.
Your legal team can now automate the first pass of their contract review with AI-Powered Contract Review in Finalize. Here's how:
Accelerate the contract review process by automatically extracting key Smart Values out of your third-party contracts

Quickly focus on the clauses and terms that require attention through intuitive contract summaries which include your top Smart Values

Minimize risk knowing that your legal team has reviewed every important term and clause within your third-party contracts
Interested in seeing this feature in action? Watch this short video to learn more.
AI-Powered Contract Review in Finalize is now available in beta. If you'd like to see the first end-to-end CLM powered by AI, contact us today to get a first look.