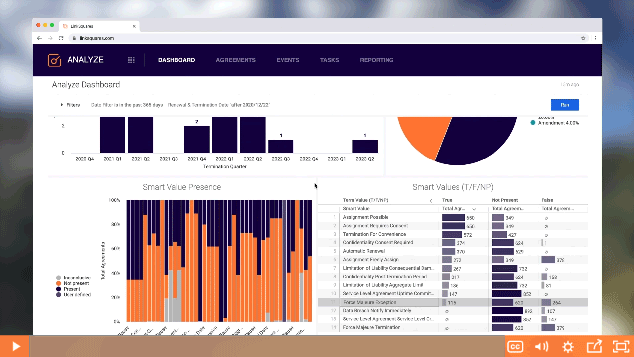 Today, we're excited to launch LinkSquares Dashboard as the first in-app business intelligence tool for your contracts, bringing a new level of transparency and clarity to all of the information within your contracts.
LinkSquares utilizes powerful AI to extract key information and terms from contracts and displays these insights in a clear, intuitive, visual dashboard. Dashboards are core to the LinkSquares platform, giving you out-of-the-box functionality and insights. Anytime you upload a contract or you update tags, contract types, clauses or other terms in your contracts, this data will be reflected in the Dashboard in real-time. No plug-ins, data pulls, or extra work required. Watch this short overview to learn more about LinkSquares Dashboard.

Use LinkSquares Dashboards to uncover key insights to help drive your business forward, highlight team productivity and uncover bottleneck, and provide an executive summary of the state of your contracts. LinkSquares Dashboard is a game changer for a variety of projects your team may work on such as:
Planning & Reporting: Surfacing key insights, contract health metrics, and sharing a high-level executive summary for board meetings, annual and quarterly review and with your team.

M&A: Highlighting key metrics and providing a high-level snapshot of your business on dime to your corporate development team or partner legal teams.

Deal Acceleration: Speeding up your contract creation process through transparent bottlenecks.
LinkSquares Dashboard enables legal teams to report on their impact to the organization as well as track and manage the health of their contracts.
If you'd like to learn more about how you can track, measure and report on your contract health and legal team productivity with LinkSquares Dashboard, contact LinkSquares today.