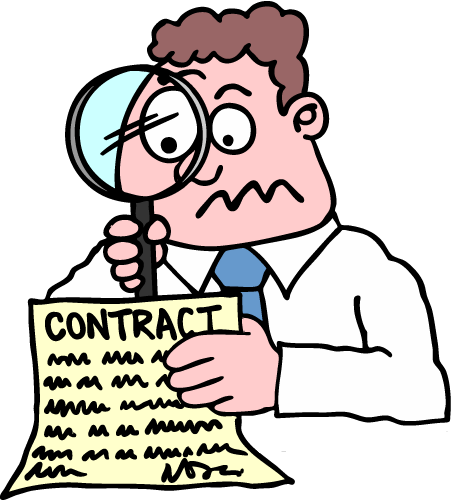 According to Wikipedia, "due diligence" an investigation of a person or business prior to signing a contract. But to me, this simple definition doesn't do this term justice. Due diligence is about knowing everything there is to know about the company, product, stakeholders, financials, risks and rewards of a deal. Its up to the person doing the deal to act as the legal representative and not miss any details.
To help you avoid a disaster in this area, here are 6 key items to check off before signing on the dotted line:
Company Background Check – This may seem basic, but this item is overlooked far too often. Make sure you know everything you can about the company you are working with. When you're signing a legal document for your business, proper due diligence on the company and people is your first obligation.
Key Dates – Check each date in the contract for accuracy and make sure payment details are clear. For example, many times companies set an evergreen renewal date instead of an end date so make details like that are clear. If you're going to pay in installments or only when work is completed to your satisfaction, say so and list dates, times, and requirements.
Correct Contacts – Are the primary contacts from both sides highlighted in the contract? If a major stakeholder changes roles or leaves the business later on, is the agreement terminated? Make sure the correct legal names of the parties are in the contract so it's clear who is responsible for performing the obligations under the agreement. Last, identify the business by its correct legal name, including the INC or LLC suffix so that you have proper legal rights if things go wrong.
Clear Obligations – It's way too common that a contract is executed and some key obligations were not addressed. Check that your obligations are clearly and simply spelled out. If you see a lot of legalese or excessive text that could be an indication to read carefully, and if you still aren't clear, ask for the clause to be clarified or re-written. Most importantly, set out the circumstances under which the parties can terminate the contract and make sure both sides are clear on expectations.
Double-Check Finances – The numbers are often the most common negotiation topic, so it's hard to believe that sometimes this detail can be overlooked. Make sure all the commas and decimal points are in the right place. After all, you could be just one extra zero away from a voided contract or a serious corporate dispute.
Understood Risks – After all research has been done, dates and numbers have been checked, and stakeholders have been included, it's time for one last high-level summary. Go over the full contract and make sure everyone on your team has a good understanding of the agreement and that all stakeholders are on the same page. Last, don't leave any details out; if you discuss something verbally but it's not in the contract, it will be next to impossible to enforce.
Once all stakeholders have fully bought in and understand the scope of their responsibilities, you can finally sign the contract knowing that you've done proper due diligence. If you are curious about more tips to help with contract negotiation processes please visit us at linksquares.com or follow us on Twitter at @linksquares.
För att ta reda på detta genom viagra bieffekter att fylla i ett kort. Sannolikheten för att du skulle uppleva några av följande medsapotek.com biverkningar ska du viagra bieffekter alltid.