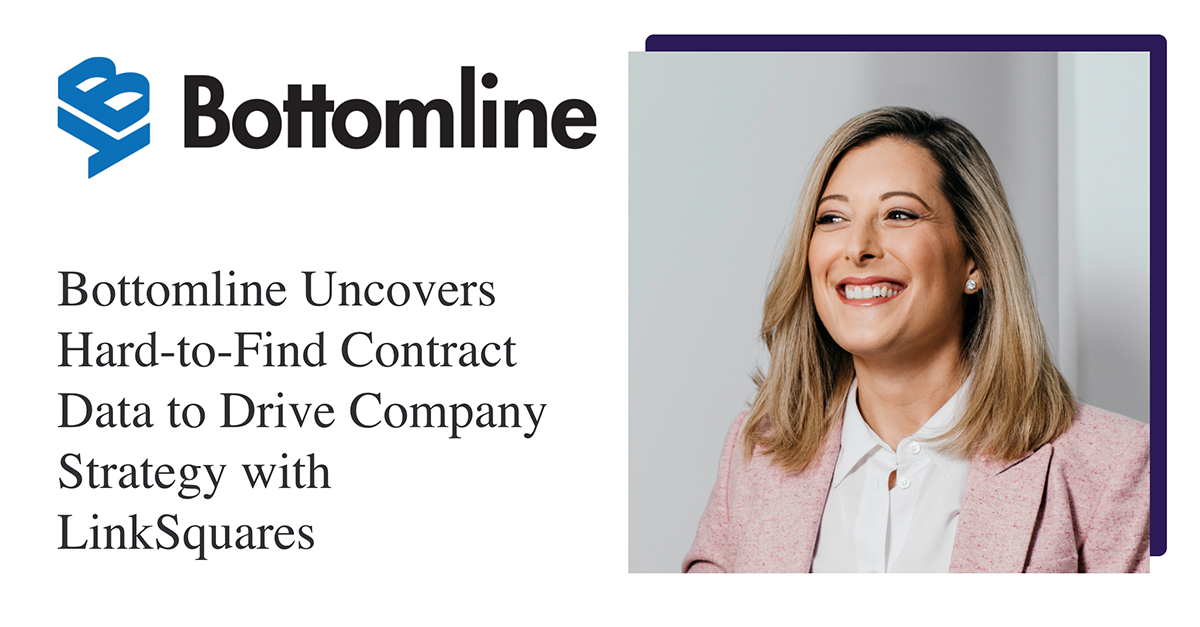 The following is an excerpt from The Link, LinkSquares' quarterly publication. Check out the full publication here.
By Automating Contract Management, This Global Fintech

Company Finds Information in Minutes, Not Months
Bottomline Technologies (NASDAQ: EPAY) handles complex business payments for 600,000 clients worldwide, and their legal team was spending huge amounts of time manually extracting data from thousands of contracts. The team turned to LinkSquares' AI-based contract management platform to free themselves from such time-consuming drudgery. Now, with all their contracts in LinkSquares, Bottomline's legal team can find what they need in seconds using full-text searches. The time savings and improved efficiency and collaboration are invaluable.
Check out these videos to hear straight from Danielle Sheer, General Counsel at Bottomline, and her team, about their experience using LinkSquares.
Implementing LinkSquares
People often wonder how hard it will be to upload contracts into LinkSquares. Danielle assures them that "it's a breeze, easier than anybody could imagine." The LinkSquares support team does the heavy lifting, responds to the customer's needs, and helps them customize the product. "The customizations are controllable and they're designed for teams to say this is the out of box solution that works, and here are the different levers that you can turn to customize for your own use," Danielle explains.
Improving Collaboration with LinkSquares
Teamwork is essential in contract management. With everything in one place, it's easy to see who's working on what and get notifications when something is ready for a signature. The legal team can see comments from everyone involved in an agreement and ensure decisions were made with proper consideration. In the event of a data breach, they can quickly determine notification requirements and manage risk proactively. As Danielle points out, "Just the other day, I was asked what our ADA Compliance requirements are across 15,000 contracts. There's no way a human could accurately answer that question. With LinkSquares I'm able to run a search across the contracts that I've uploaded to pull out any contract that talks about ADA Compliance, and it's taken me less than a few minutes to do it."
ROI with LinkSquares
With any technology purchase, a clear ROI is essential. "If you've been successful to get budget for a contracts management tool, it's beneficial when a legal team can show the results very quickly and LinkSquares has done that for us," Danielle says. "The Bottomline CEO highlighted the legal team's use of LinkSquares as a way to capitalize on AI systems and tools to be able to deliver accurate results faster to our sales and development teams."
Product Innovation
LinkSquares turns to our customers to learn more about industry trends and common issues legal teams are facing so products can be designed to help move their business forward. Innovations such as in-app chat and self-serve templating illustrate this. "I've seen a lot of our feedback end up in the product, which is incredibly rewarding because you end up feeling like part of the solution," Danielle says. "And that just feels good. It feels good as a customer."
The move to LinkSquares has been a game-changer for Bottomline Technologies. "The point is to have information at your fingertips as fast as possible," Danielle says. "It's just a smarter way to organize your information and to search for it. All of a sudden, we can service our partners in a faster way, and a more delightful way."
Want to learn more? Contact LinkSquares today.