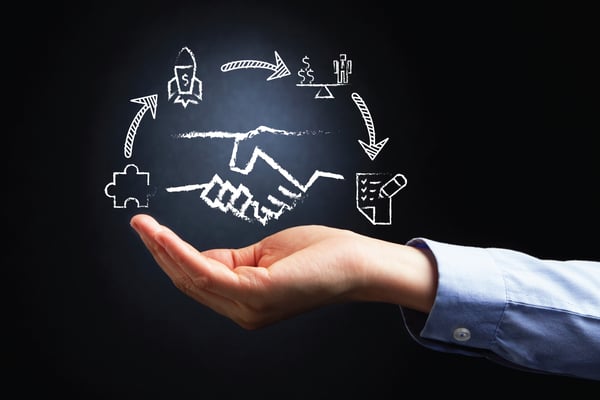 Mergers and Acquisitions are an influential aspect of the business world, but these major transitions can cause incredible amounts of stress for those involved. Of course, there are employee concerns and company culture challenges that arise, but there are also a large amount of technical concerns that come with a merger or acquisition. In fact, LinkSquares was born out of the contract analysis complications that the company's founders faced in previous roles while their company underwent an acquisition.
Vishal Sunak, LinkSquares CEO and co-founder, says, "In 2014, my co-founder Chris Combs and I were working at Backupify, seeing and hearing first hand the process it took to be acquired by Datto. It was during this transaction we first felt the pain of wishing we had better insight into our executed customer agreements, as they were big areas of interest to the acquiring company. Given our limited tracking of very specific data points related to our agreements and the lack of tools in the market focused on post-signature contract analysis, we knew deep down that somewhere in all that mess there had to be a better way to quickly understand the contracts we had agreed to – and reading thousands of them one at a time definitely wasn't the answer."
Legal and Corporate teams face these issues on a regular basis, often with outdated technology that may not be able to handle the smart contracts of today's business world. How can companies proactively manage these M&A challenges?
Due Diligence
Before a deal is finalized, the companies involved follow a process known as due diligence. During this time, the acquiring party takes an in depth look into the soon-to-be-acquired company's assets and financial performance. The acquiring party will also look into human resources, customer, legal records and more. Throughout this process, the team must review a wide array of contracts in a short amount of time.
Given the tedious process of analyzing the terms in each contract, companies are turning to AI-based contract analysis tools to manage this massive task. In the short term, this saves them time and money spent on outside counsel to review the documents. In the long term, an AI-based solution gives both companies peace of mind that nothing was missed in the process due to normal human error, and establishes a system for them to continue this type of efficient, automated contract review.
Payment Terms and Accounting Review
During Mergers and Acquisitions, proactive financial management is vital, as shareholders are watching closely. The pressure is on for legal and finance teams to produce complete records of payment terms and other important accounting records. Reviewing these contracts also helps to ensure that payments don't fall behind and that cash flow remains as expected. However, for a large company, the number of financial contracts can easily reach the thousands.
Without any insight into the terms of these contracts, manual review can take weeks of valuable time for finance and legal teams. However, companies are turning to AI to do the work of these teams in a fraction of the time. With contract analysis software like LinkSquares, the process of reviewing payment terms within contracts is simplified, and teams have more time to manage other aspects of the merger.
Finding the Right Contract Analysis Tool
With all the information that needs to be managed during an M&A process, utilizing reliable, precise software is vital to ensuring consistency and accuracy. The majority of companies have incorporated cloud-based software to ease the transition without the use of cumbersome physical servers to store the data. A cloud-based contract analysis tool like LinkSquares can simplify the process, giving valuable hours back to your team.
By using an AI-based contract analysis tool, transition teams can avoid the time-consuming manual process of reviewing contracts. Instead, let the AI do the work while your team focuses on other aspects of the transition. With LinkSquares, your team won't have to spend time sorting and tagging documents or reviewing them for key data and clauses, making the mergers and acquisitions process smoother than it has ever been.
Don't Just Take Our Word For It
Kensho, a machine learning and analytics platform for the finance industry, made the Forbes 50 Fintech list in 2018. Shortly after the list was released, S&P Global acquired Kensho for a record $550 million, the most ever spent to acquire an AI company at the time.
After evaluating a number of contract management tools to handle the due diligence process, Kensho turned to LinkSquares. By utilizing the search and tagging tools available within the platform, Kensho was able to access contracts with speed and precision. Ultimately, the move to LinkSquares saved time and valuable resources, all while simplifying the transitional period for both companies involved. You can read more about Kensho's experience in this customer story.
All in all, while the M&A process can be intimidating and complex, proactively managing contracts with an AI-based contract analysis platform simplifies the process enormously. Without this solution, time and resources that could have been allocated to other critical preparations become tied up in tedious contract review. If you'd like to learn more about how LinkSquares can help with your Merger or Acquisition, request a free demo with our team.