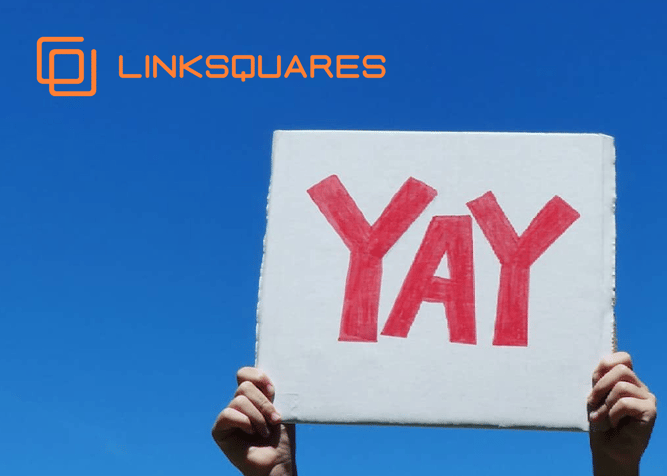 Here at LinkSquares, we're always excited to hear feedback. With 2020 coming to an end, we set out to gather what our customers are saying about us on G2. What we've found is pretty exciting. Here are our customers' 5 favorite things about LinkSquares, in their own words.
#1 LinkSquares provides excellent OCR
"LinkSquares not only provides us excellent OCR to make even grainy scanned agreements searchable, it also enables us to search all of our contracts for language and terms we need. While I don't use it every day, when I do use it, it saves us a bunch of time and also results in contracts with consistent language."
- Robert R, General Counsel, Enterprise (>1000 employees)
"The best thing about this tool is that it converts scanned pdf version of documents into a searchable format. We can search a term or common language amongst all contracts stored in the system".
- Anonymous User, Mid-Market (51-1000 employees)
"The platform makes it very easy to locate specific contracts based on any number of different criteria. The fact that each contract undergoes an OCR process so that it is full-text searchable takes a lot of the guesswork out of locating all contracts that contain certain provisions."
- Laurence P, Enterprise (>1000 employees)
"The reporting feature is by far the best and most useful feature to find specific terms and information in contracts. In a close second and in connection with the reporting feature, it's wonderful to have all of our contracts readable for a search due to LinkSquares' OCR feature."
- Jeremy H, Mid-Market (51-1000 employees)
Want to learn more about how OCR makes it possible to turn your scanned documents in to readable, searchable text? Check out the video below and visit this page.
#2 LinkSquares saves us time
"LinkSquares allows me to send new executed contracts straight to it and becomes an easily accessible, searchable contract indexing repository. The AI reads PDFs quickly and accurately and allows searches for contract terms across the platform in a matter of seconds. COVID triggered a project to review all of our Force Majeure provisions and instead of manually pulling each contract and finding the provision, in a matter of minutes I had a full report with the key language from each contract that I needed to review. Saved me days and days of manual review. I highly recommend this software for other General Counsel."
- Rich G, General Counsel, Mid-Market (51-1000 employees)
"LinkSquares has an incredibly accurate AI that (1) sorts documents into various pre-set categories of "types" and "tags" and (2) pulls important relevant information from contracts automatically (such as renewal date, governing law, counterparty, etc.). My company is using LinkSquares to replace a legacy system where this information had to be entered manually, so we're saving countless hours of manpower."
- James K, Senior Contracts & Corporate Law Counsel, Mid-Market (51-1000 employees)
"LinkSquares' fantastic contract management database that has simplified and saved time. Our contracts are now organized and terms are located within seconds when performing a search."
- Lori M, Enterprise (>1000 employees)
"The value of having all contracts located in one central database to quickly review and the ability to run reporting on key contract details is extremely valuable from a user perspective."
- Jerry B, Senior Manager, Revenue Recognition, Mid-Market (51-1000 employees)
"(I like) being able to search documents for keywords and seeing a breakdown of the document. Before I had used a database that would not allow me to search contracts without just doing it manually so switching to LinkSquares made things significantly faster and easier for me."
- Anonymous User, Legal Services, Mid-Market (51-1000 employees)
We could all use some of our time back, especially during a year of remote work, a global pandemic, and legal teams across the world reviewing their Force Majeure provisions. Watch this quick video on how you can search across all your contracts for important terms such as "force majeure" or "acts of god," with LinkSquares.
#3 LinkSquares' ease of use brings additional

value
"LinkSquares makes it very easy to upload and store contracts. It's very helpful to search for contracts and run useful reports. The reports enable us to communicate important information to our internal clients, review key clauses, find contractual obligations for particular issues, and provide a window into the legal department's activities for board and management transparency."
- Jonathan S, Senior Legal Counsel, Small-Business (50 or fewer employees)
"It's an easy system to use, and getting to the underlying information is quick and intuitive. Compared to other platforms out there, in my opinion, there is nothing close when you consider value/dollar."
- Lance K, Mid-Market (51-1000 employees)
"The simplicity and time management has surpassed my expectations. Wonderful Product and team"
- Lori S, Mid-Market (51-1000 employees)
"Simple to use/Advanced searching features allows us to solve our key contract analysis, knowledge management, and reporting effectively and consistently. Our employees are working smarter not harder, happier as are our internal business partners."
- Marc J, Board Member, Consumer Services, Enterprise (>1000 employees)
"What they demonstrated they delivered, and what they delivered exceeded my expectations. The on-boarding process was as pain-free as they promised. Once the documents were uploaded and categorized, we were able to start using the tool right away. The LinkSquares product is very simple and intuitive to use. Plus, where we had questions, their CS team did a great job walking us through the problem. They have a great product roadmap that we will grow with."
- Eric D, General Counsel, Mid-Market (51-1000 employees)
"The ease and flexibility to gather data so quickly for reporting and efficient facilitating of the decision-making process. Since being a newer customer, I feel the customer success manager is always available to answer questions and provide links for additional best practices. I like the reporting features and the way it is easily customized, practical, conducive, utilitarian, workable, and user friendly/oriented. We are currently just a little over implementation phase and finding tips and tricks for contributing value. Also, we are able to link related contracts with the many amendments related as needed. It is a very workable solution to many contract management processes. Additionally, adding the necessary and strategic way an organization can stay on top of contract processes is a clear and worthwhile tool which can assist us across the board."
- Susan W, Enterprise (> 1000 employees)
LinkSquares is extremely user-friendly. This gives you the ability to write better contracts and analyze what's in existing contracts in a single, easy-to-use platform. To learn more about our product, check out this page and watch the video below.
#4 The LinkSquares Customer Success team is
incredible
"...I will also say that the LinkSquares customer success team is incredibly responsive, flexible, friendly, and helpful. They've gone out of their way (and usual processes) to help get my company up and running, including customizing the onboarding process for the nuances of our industry."
- James K, Senior Contracts & Corporate Law Counsel, Mid-Market (51-1000 employee)
"The Customer service we have received from Matt and Dylan since the inception of using the LinkSquares product has been fantastic! From our initial training, integrating the product with Salesforce and understanding our company needs, Matt & Dylan have efficiently taken us through the process. They respond to emails and calls quickly as well as answer any questions anyone on our team may have. There have not been any problems with using LinkSquares, mostly user error or questions that are quickly resolved."
- Lori M, Enterprise (>1000 employees)
"What I like best about the product is the excellent customer support. Our customer success contact, Matt, has spent many hours with us training us on use of the product, helping us to create complex custom searches and just generally being really responsive to all our questions about how to get the most value out of the product."
- Laurence P, Enterprise (>1000 employees)
"The LinkSquares team is very attentive and helpful. They're always eager to help and provide training sessions for team members."
- Jacques B, Technology Attorney, Mid-Market (51-1000 employees)
"Service has been remarkable, as Nav and others at LS are always available for detailed explanations, help, customizations, etc. Every company should have access to these tools!"
- John H, Mid-Market (51-1000 employees)
"The LinkSquares team has been a very flexible and attentive partner to us. They listen to our ideas, advocate for those ideas on their product roadmap, and come through with a solution."
- Shawn H, Mid-Market (51-1000 employees)
"LinkSquares listens to the needs and wants of the client. Overall, any request suggested they have proven the ability to execute in a timely manner."
- Anonymous User, Administrator in Information Technology and Services, Mid-Market (51-1000 employees)
Get to know our amazing Customer Success team! Check out this video.
#5 The LinkSquares implementation process is

quick and painless
"The on-boarding process was painless, and the intuitive meta-tagging was great. Making our large contract repository searchable by terms, even if the quality of our PDFs were less-than-perfect, is incredible."
- Blaine D, Small-Business (50 or fewer employees)
"LinkSquares sets the standard in the industry for using a cloud based solution and AI technology for storing and searching documents. The implementation process is quick and painless and the customer support from LinkSquares is unparalleled. I highly recommend the product to any company looking to improve their global document management system and process."
- Danny (Beau), Sr. Manager, Legal Operations, Enterprise (>1000 employees)
"LinkSquares is an amazing company to work with. We discovered them several months ago and their product is like no other! If you're looking for an AI cloud based solution for searching over documents or building out your clauses to create documents they're the best you will find out there!"
- Ashley A, Legal Operations Manager, Enterprise (> 1000 employees)
Onboarding LinkSquares is a painless process, largely due to Smart Admin. This feature automatically renames, type classifies, and tags your new and existing contracts based on information inside them. Watch this video to see Smart Admin in action.
Well, that's a wrap on what our customers have to say on G2. If you'd like to take their lead and truly modernize your legal operations, contact LinkSquares today.