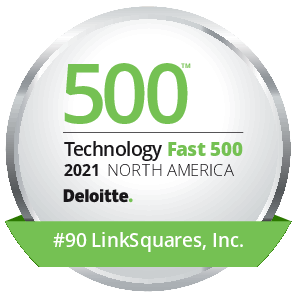 We are proud to announce that LinkSquares was ranked the 90th fastest-growing company in North America on the 2021 Deloitte Technology Fast 500™. The Deloitte Fast 500 list is a ranking of the 500 fastest-growing technology, media, telecommunications, life sciences, fintech, and energy tech companies in North America, now in its 27th year.
"Each year the Technology Fast 500 shines a light on leading innovators in technology and this year is no exception. In the face of innumerable challenges resulting from the pandemic, the best and brightest were able to pivot, reinvent and transform and grow. We celebrate the winning organizations and especially the talented employees driving their success." - Paul Silverglate, Vice Chair, Deloitte LLP, and U.S. Technology Sector Leader.
Here at LinkSquares, we've processed more than four million documents and extracted more than 100 million unique data points. Deloitte's recognition follows a banner year for us. We raised a $40-million Series B financing round, and achieved rank No. 253 on the Inc. 5000 list of fastest-growing private companies, placing ninth among companies in Massachusetts. Our CEO Vishal Sunak was also named an Entrepreneur of the Year® 2021 New England Award winner.
The legal industry seeks new approaches to keep company contracts and precious data accessible, secure, and actionable in the face of crisis. The success of LinkSquares can be credited to the modern legal department's pursuit of an all-encompassing approach to managing contracts and data of strategic consequence to the business.
"Artificial intelligence and machine learning can help accelerate and automate the manual business processes of the past, but off-the-shelf AI isn't cutting it for legal teams and their specialized needs. LinkSquares' unwavering dedication to solving the biggest pains for general counsels and our homegrown AI is an unstoppable combination that has fueled our stellar growth to date." - Vishal Sunak, CEO and Co-Founder, LinkSquares
For more information about LinkSquares' AI-powered contract lifecycle management platform, schedule a demo today.