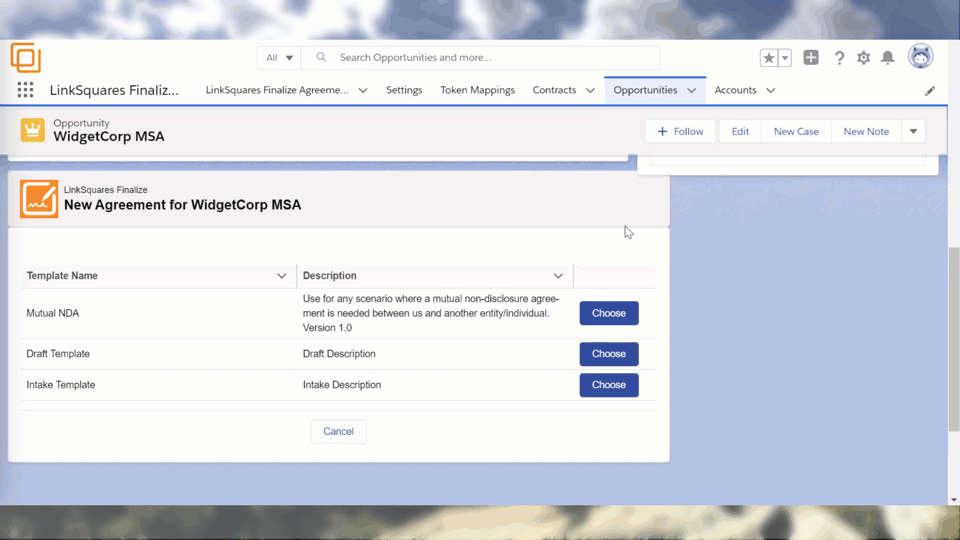 March was a busy month. In the U.S., we reached 100 million people vaccinated and nearly one million jobs were added to the workforce. Global economies are starting to awaken from their COVID-induced hibernation and 2021 is poised to be a year of extraordinary growth. Things are going to be moving fast and the companies poised to see the biggest returns are those who can react quickly and nimbly.
With this in mind, LinkSquares has spent March launching a variety of new features to accelerate your sales cycle and contracting processes to get deals closed faster, and enable more comprehensive reporting for deep, immediate insight into your contract portfolio. Let's take a look!
LinkSquares Finalize Integration in Salesforce to

Accelerate Your Contracting
When it comes to the sales cycle, time is money and a deal isn't done until it's papered and signed. The LinkSquares Finalize integration in Salesforce accelerates contracting by enabling Sales and Legal to work and communicate efficiently, each in their preferred platform. Watch the video to see this new Sales-Legal collaboration in action.
DocuSign Integration in LinkSquares Finalize for

Streamlined Signature Tracking
Executing a contract is exciting, but manual processes can make gathering signatures a challenge. Our DocuSign integration eliminates the hassle for Legal by allowing contracts to be sent for signature directly from Finalize, with notifications along the way. This saves time and provides an at-a-glance view of each contract's progress. To learn more, watch the video.
Pending Agreements in LinkSquares Analyze for
Contract Naming and Tagging Consistency
To help you ensure that all your contracts follow your company's specific naming and tagging conventions, LinkSquares released Pending Agreements in LinkSquares Analyze. With Pending Agreements, Admins and Managers have an opportunity to review contracts for consistency before they enter the Agreements repository for general use. Want to see how this new feature can improve the quality of your data and comprehensiveness of your reports? Watch the video.
56 Smart Values to Surface Key Insights in Your

Contracts
In the past year, we have launched over 50 new Smart Values to help you surface the key pieces of information and insights within all your contracts in seconds. Well, get ready for even more visibility into your contracts! Visit our Smart Values page to see a list of our current Smart Value offering.
Individually, each of these recent features provides significant value in both time saved and insights gained. And, taken as a whole, you have the tools to truly increase your contracting speed and agility. Exactly what you need to unlock the potential of 2021's incredible growth!
Contact LinkSquares today to learn more about these new features and what they can do for your company.