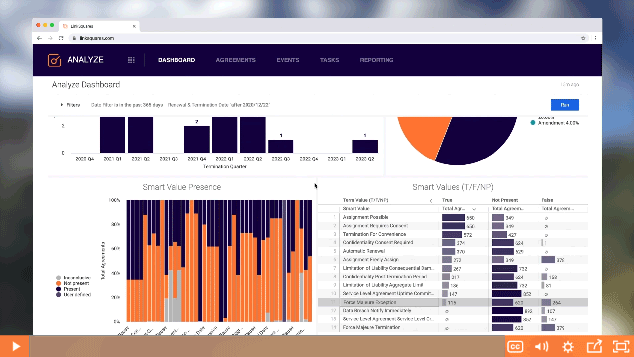 With 2021 moving full steam ahead, we'd like to share some of the exciting new features we've built in the past month to help you make the most of the new year and help you move your business forward faster. Let's dive in.
LinkSquares Dashboard
LinkSquares Dashboard is the first customizable in-app business intelligence tool for your contracts, bringing a new level of transparency and clarity to all of the information within your contracts.
LinkSquares utilizes powerful AI to extract key information and terms from your contracts and displays these insights in a clear, intuitive, visual dashboard. The Dashboard is core to the LinkSquares platform, giving you out-of-the-box functionality and insights. Other teams in the organization, such as Finance and Sales, already have sophisticated business intelligence and analytics tools; LinkSquares enables your legal team to report on your impact to the organization as well as track and manage the health of contracts. To learn more about the Dashboard, watch the video.
Event Insights in Analyze
With LinkSquares Event Insights, you can proactively manage key dates such as termination dates and renewals date with automated email notifications and reminders. This ensures you never miss an important date and enables you to proactively forecast and strategize around upcoming renewals and terminations. Watch the video to learn more about how Event Insights can help your business.
Milestone: 50 Smart Values
We now offer 50 Smart Values and we'd like to highlight 5 Smart Values in our stack that we've created, specifically based on feedback we've received from customers on key data they'd like to extract from their contracts.
Document Title: With this Smart Value, LinkSquares extracts your Document Titles so you can quickly and easily identify specific groups of contracts and run reports on specific document titles such as Order Forms, SaaS Agreements, Sponsorship Agreements and more.

Exclusivity Clause: The Exclusivity Clause Smart Value is all about helping you identify which customers or partners you have exclusivity with and helping you surface this information quickly with a dedicated value for ease of analysis and reporting.

Non-Solicitation Clause: This Smart Value helps you quickly identify which solicitation restrictions you have with your employees, customers, or partners.

Renewal Price Increase Sentence: This Smart Value identifies the sentence in your agreement that outlines the terms of a Renewal Price Increase such as: "XYZ may increase the fees for the hosted Software on an annual basis provided that such annual Increase will not exceed the greater of 4% or the Increase in the Consumer Price Index (CPI)".

Renewal Price Increase Percentage: This Smart Value highlights the Renewal Price Increase after your annual subscription is up. With this Smart Value, you can keep an eye on price increases so that a more expensive renewal doesn't occur without your knowledge or prior forecasting and planning.
Add an Attachment with a URL
Streamline their workflows in LinkSquares Finalize with the ability to add in Google Docs and other links as attachments. If you use Google Docs to collaborate on agreements and store supplementary documents such as security questionnaires and project plans, this feature is for you. With Add URL as Attachment, you can now seamlessly attach these documents to the corresponding agreements without going through extra steps.
Analyze Enhancements
We've made a couple of style updates to Analyze to make it easier for you to work efficiently within LinkSquares:
Link a Child Agreement to a Parent Agreement: LinkSquares now makes it easier to group agreements together and see related agreements in one group. Now you can link a child agreement to a parent agreement when you edit any child agreement. For example, you can assign hierarchies in your agreements easily in common cases where a supporting document such as an NDA or amendment is uploaded after the parent agreement, such as a Master Service Agreement.

Pages: To make it easier for you to scroll through hundreds of agreements without losing your place, we've replaced the infinite scroll functionality with pages.
We've got more features coming your way soon, but for now, that's a wrap. Stay tuned! And, if you want to learn more about how we can help you revolutionize your contract management by giving you even faster access to contract insights, contact LinkSquares today.