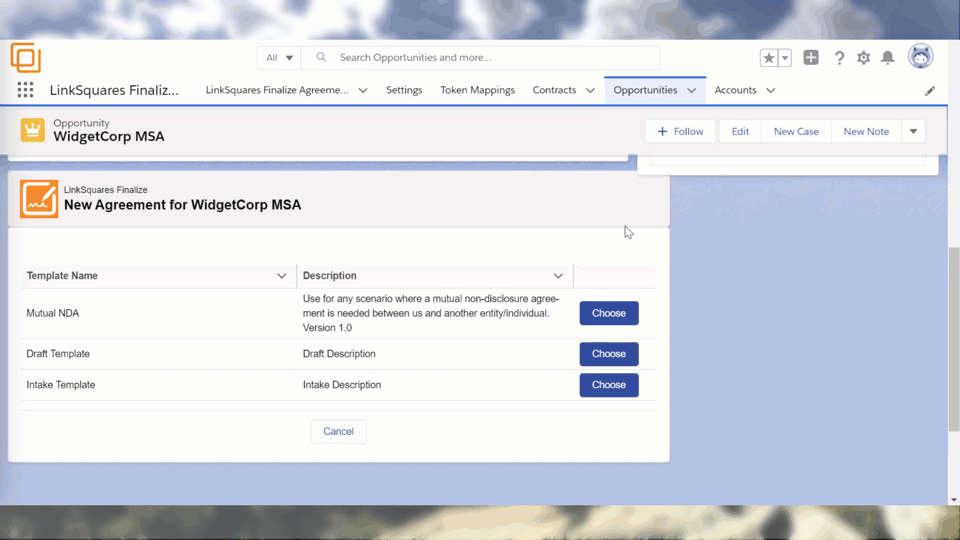 Efficiency is always highest when people can do their work inside the systems they know. To that end, we are very excited to share that LinkSquares Finalize now integrates with Salesforce and DocuSign, helping to streamline and accelerate your contracting process from initial request to final signature.
Salesforce
When it comes to the sales cycle, time is money and a deal isn't done until it's papered and signed. Our LinkSquares Finalize integration in Salesforce accelerates contracting by enabling Sales and Legal to work and communicate efficiently, each in their preferred platform.
Minimize disruptions in the sales process by enabling the team initiate contract requests, communicate with Legal, and track contract statuses, all within Salesforce.

Speed up the contract creation process between Sales and Legal with each team working on their platform of choice.

Forecast deals more accurately with the ability to efficiently track where your sales contracts are in the process.
And how about when it comes time to get your contracts signed?
DocuSign
Executing a contract is always exciting, but manual processes can make gathering signatures a challenge. Our DocuSign integration eliminates the hassle for Legal by allowing contracts to be sent for signature directly from Finalize, with automatic status updates.
Seamlessly share contracts for signature with the click of a button, all within your existing tools.

Closely track signature progress with automatic notifications as each signature is gathered, while color coded status updates in Finalize provide at-a-glance insight.

Measure and manage the entire contract workflow, from creation to execution, to identify areas of process improvement and blockers.
Interested in seeing these integrations in action? Take a look at our Salesforce demo and our DocuSign demo.
See how LinkSquares can give your legal teams the tools they need to move their business forward faster. Request a demo today!