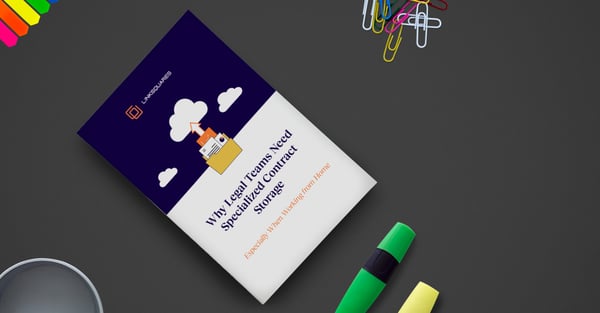 Your legal team always needed specialized online document storage for your contracts and agreements, but the COVID-19 pandemic has suddenly made that need a top priority. If only you could get your (admittedly overworked) IT department to agree.
To help you make your case, LinkSquares has developed our latest eBook: "Why Legal Teams Need Specialized Contract Storage, Especially When Working from Home".
When you have to secure funding and support for a legal-centric, remote-friendly document storage solution, this eBook arms you with the arguments you need.
Our eBook goes into critical details like:
Why VPNs aren't the answer
The specific advantages of cloud-based storage for legal teams
Commodity features your solution must include
Specialized feature considerations for legal teams
If you're muddling through slow document search and inefficient workflow over a VPN -- or simply can't get the document storage and sharing performance and security you need out of "big name" solutions like Google Drive, Dropbox and SharePoint -- this eBook will help you prove those points to your technology and finance leadership.
An internal legal team is often a "contract factory," but poor remote connectivity tools -- which COVID-19 has us all relying on -- can grind that factory to a halt. Download our eBook to ensure your legal team stays productive during this current crisis, and to ensure you have the tools you need to endure the next extended office closure.
If you need to hone your arguments for investing in an online document management tool for your contracts and legal agreements, download "Why Legal Teams Need Specialized Contract Storage, Especially When Working from Home" now.
And if you want to skip directly to learning about the best cloud-based contract storage and analysis solution available -- or want to learn more about how artificial intelligence can increase the value and lower the risk of your entire contract portfolio -- contact LinkSquares today.