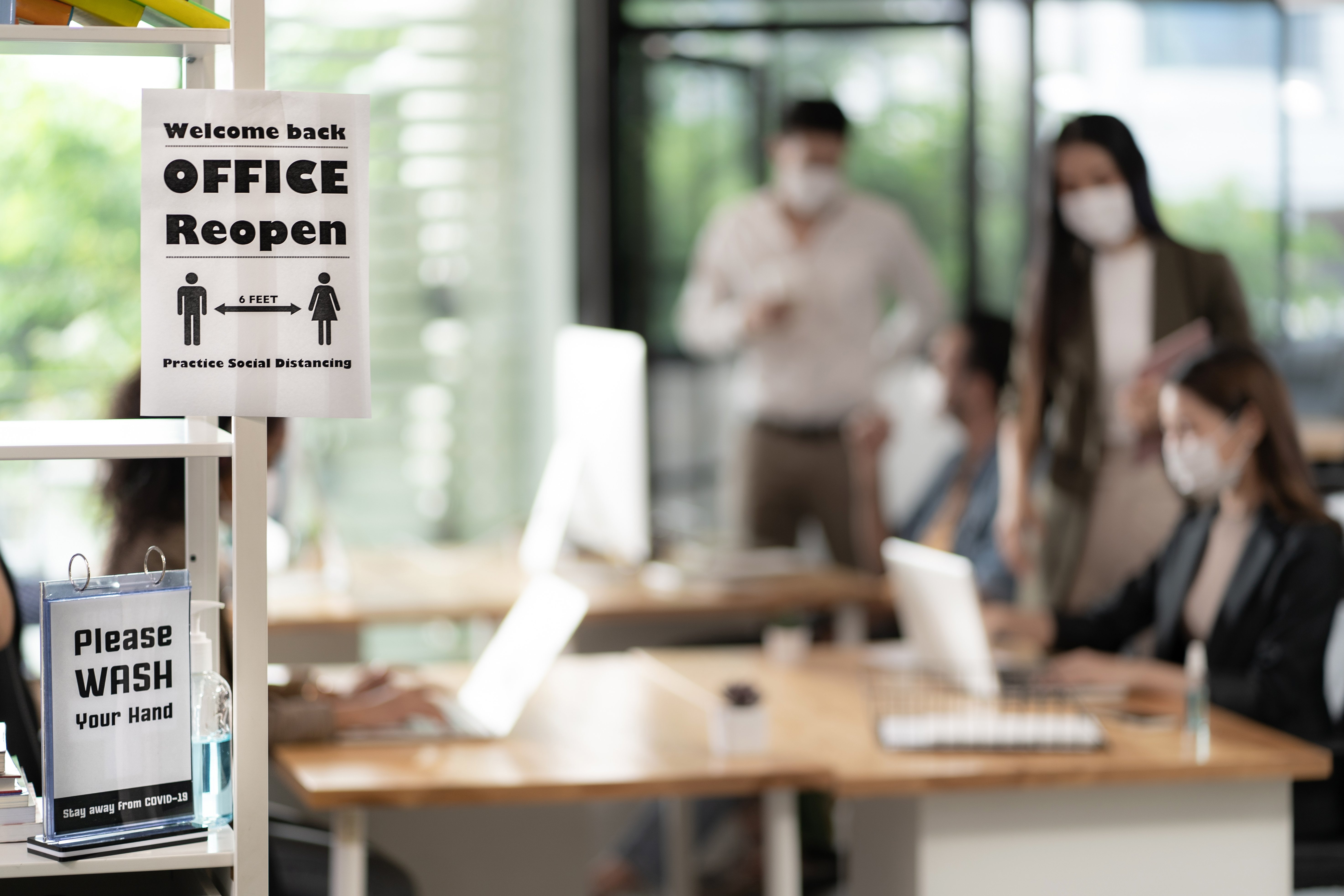 After nearly two years of living with the threat of COVID-19, the lasting influence of the pandemic on the workplace remains unclear. Between the implementation and extension of remote work arrangements and the constantly evolving guidance around mask-wearing and vaccination requirements, employers and employees are occupying the same bewildered headspace regarding the future of COVID-related mandates and best practices.
When it comes to navigating this environment of ongoing uncertainty and ultimately providing answers to these questions, much of the burden has fallen on legal teams. Even the most experienced legal professionals can't be expected to spin off solutions to these unprecedented circumstances reflexively.
It seems the best that we can do is take an inventory of existing and developing mandates and envision – as realistically as possible – what they mean for the future of the workplace. Whether it's forecasting a date for returning to the office or organizing an in-person holiday event, legal teams need to consult all available information before making final calls.
In this blog post, we'll take a closer look at the current state of COVID-19 mandates in the US, as well as what they could potentially imply for businesses and legal teams. However, it is necessary that we also first acknowledge that this information will likely alter or change entirely in the coming months, weeks, or even days due to several factors.
With Some Exceptions, Businesses Can Set Their Own Mask Requirements
Since the pandemic began, mandating the use of masks has been a tricky and divisive endeavor for lawmakers in the US, and we have seen these requirements come and repeatedly go in different states and at various points in the evolution of the virus. Recently, concerns surrounding the Delta variant have prompted the Center for Disease Control (CDC) to issue new guidance recommending that most people—even the fully vaccinated—continue to wear masks indoors "in areas of substantial or high community transmission."
While the CDC is a federal health organization, its guidance does not necessarily constitute a federally enforceable mandate. Decisions around implementing and enforcing mask requirements have largely been left up to individual states and counties. Currently, only six states—Hawaii, Illinois, Nevada, New Mexico, Oregon, and Washington—require most people to wear masks indoors in public spaces regardless of vaccination status, according to a state-by-state guide by AARP. Other states, such as California, Connecticut, and New York, have formal indoor mask mandates, but only for those who have yet to be vaccinated.
In the absence of a broad, federal mandate on mask use, individual businesses are tasked with crafting and enforcing their own rules as they see fit. And while requiring the use of masks in light of new COVID-19 surges might be somewhat of a no-brainer for highly-trafficked retailers, the decision can be significantly more complicated in the context of employees sharing office space. This may be why so many companies continue to push back return-to-offices dates and extend remote work arrangements. The prospect of improving remote work processes to salvage productivity often seems favorable to risking the safety and comfort of employees.
For businesses returning to the office full-time or organizing an in-person event in states without formal mandates, legal teams should be prepared to address employees who have reservations about mask use or seek an exemption in the form of a reasonable accommodation request. When crafting company policy, legal teams should rely on the CDC's guidance around exemptions for those with disabilities, which identifies a number of circumstances in which exempting an individual from mask use would be appropriate.
Mandates and guidance around mask use are expected to continue evolving alongside levels of concern regarding the COVID-19 virus. It would not be surprising to see action taken in response to the novel Omicron variant, which recently led to a new wave of international travel restrictions.
Biden's Federal Vaccine Mandate is on Hold (For Now)
Perhaps even more difficult to navigate is the current state of vaccine mandates in the US. On November 4, 2021, the Biden Administration announced two new policies intended to promote vaccination requirements in the workplace. One policy, enforced by the Centers for Medicare & Medicaid Services (CMS), will require health care workers at any facility participating in Medicare and Medicaid to be vaccinated. Another, per the Department of Labor's Occupational Safety and Health Administration (OSHA), states that employers in the U.S. with 100 or more workers must require full vaccination or participation in weekly COVID-19 testing as a condition of employment by no later than January 4, 2022.
Previously, the Administration's action regarding vaccine mandates was limited to federal employees and contractors, causing the latter of the above policies to be embroiled in controversy and legal challenges. Not long after the announcement, OSHA paused its enforcement of the order after it was blocked by the 5th U.S. Circuit Court of Appeals, based in New Orleans. The challenge, spearheaded by Louisiana Attorney General Jeff Landry, was the result of a rising contention among Republican lawmakers that vaccination mandates are unconstitutional. "The president will not impose medical procedures on the American people without the checks and balances afforded by the constitution," read a statement from Landry regarding the appeal. According to NPR, at least 27 states have filed lawsuits attempting to stop the OSHA rule from going into effect.
The Biden Administration has since responded by asking that the U.S. Court of Appeals for the Sixth Circuit, under which all lawsuits related to the OSHA mandate have been consolidated, immediately lift the suspension and allow the rule to move forward as planned. "Delaying the standard," the Justice Department maintained in its response, "would likely cost many lives per day, in addition to large numbers of hospitalizations, other serious health effects, and tremendous expenses." The Administration cites concerns related to rising infection rates in the U.S. as the basis for its rule, and has considerable support from a wide range of medical professionals, including testimony by the American Medical Association that halting the OSHA policy could cause "severe and irreparable harm."
Currently, the fate of the OSHA policy remains unclear, and legal experts expect that a final decision will ultimately be issued by the Supreme Court. If the mandate holds, businesses with 100 or more employees will need to ensure compliance or face penalties of up to $14,000 per individual violation. Legal teams will need to follow developments related to the policy closely as the situation continues to evolve, and should otherwise anticipate that the mandate will indeed be reinstated, and be prepared to implement an effective strategy for enforcing the rule in the workplace by the start of 2022.
It isn't only the federal government that wants to mandate vaccinations in the workplace. In recent months, actions taken by Mayor Bill de Blasio have put New York City in the spotlight as the first US city to require proof of vaccination for entry to restaurants and several other public venues and to issue a formal vaccination mandate for all city workers. According to de Blasio, these efforts have been a success. At the beginning of November, the Mayor stated that 91% of the city's workforce had received at least one dose of protection against the virus. Depending on how the city continues to adjust to these orders into 2022, it's possible that other states and counties could deploy a similar strategy in the near future. Similarly, if the ban on the OSHA policy were to be upheld by the 6th District or eventually the Supreme Court, it could possibly result in the emergence of additional workplace vaccination requirements at the state and local levels.
Regardless of where workplace vaccine mandates originate from, legal teams will face similar, notably more complicated challenges when it comes to addressing exemptions. Most of the added complexity is due to the fact that, in addition to medical conditions, employees are much more likely to cite religious concerns as their primary reason for objection when it comes to vaccinations as opposed to mask use. This means that employers and legal teams will need to tread carefully so as not to violate employees rights as detailed in both the Americans with Disabilities Act (ADA) and the Civil Rights Act of 1964.
Fortunately, legal teams can consult established government institutions such as the US Equal Employment Opportunity Commission (EEOC) for guidance on these issues. When it comes to addressing medical exemptions, legal teams should review the EEOC's guide to disability-related inquiries and medical exams, and should consult the Compliance Manual of Religious Accommodations when it comes to requests for religious exemption. The EEOC's more general guidance on addressing reasonable accommodation requests related to COVID-19 is as follows:
"As a best practice, an employer introducing a COVID-19 vaccination policy and requiring documentation or other confirmation of vaccination should notify all employees that the employer will consider requests for reasonable accommodation based on disability or religious belief on an individualized basis." (EEOC Guidance, Section K.6)

Whether it relates to masks or vaccinations, legal teams need to be prepared to implement and enforce mandates as efficiently as possible (and as required by law.) Because pandemic-related regulations are still developing, and tend to vary by location, it's important that legal leaders are tuned in to the evolving legal landscape as it relates to masks, vaccinations, and even social distancing mandates. Depending on the size and scope of the organization, legal teams might need to enforce different requirements based on location and should be prepared to draft individual policies for separate offices or regions whenever necessary.