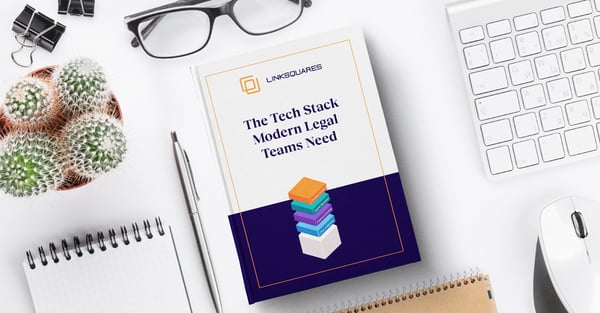 The dirty secret of the legal profession is that lawyers in private practice have no great incentive to work efficiently because the longer a legal task takes, the greater the billable hours for which an attorney can charge. And that same unspoken dismissal of efficiency has crept into the design and functionality of most legal software.
That's why LinkSquares developed our no-nonsense eBook: "The Tech Stack Modern Legal Teams Need".
If you're an in-house counsel or legal staffer that gets paid the same for a legal workload that takes 40 hours per week or 80 hours, you have no reason to settle for a software stack that leads to the larger figure. After all, you're not getting paid for those extra 40 hours, because those hours aren't billable.
In this eBook LinkSquares identifies the types of software that actually makes legal teams more efficient, so you can get your work done faster, more effectively, and with less legal "grunt work."
This eBook breaks down:
Document management solutions
Pre-signature contract drafting software
E-signature tools
Due diligence legal analysis solutions
In each case, "The Tech Stack Modern Legal Teams Need" outlines the specific features and functionality that legal teams need to ensure efficiency, rather than simply generating client billables.
If you're ready to upgrade your legal team's software tools -- and you want to focus on getting legal work done better, faster, and cheaper this is the eBook you should read first.

And if you're ready to invest in the one legal software tool that can make every legal team more efficient -- an artificial intelligence solution that parses, analyzes, and categorizes contracts and legal agreements to expedite due diligence and minimize liability -- contact LinkSquares today.