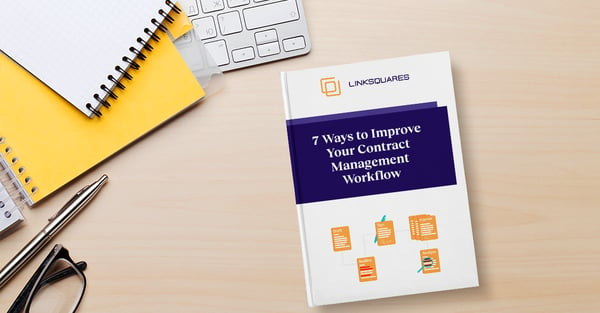 No contract management system is perfect, but some workflows are more problematic than others. To help you pinpoint areas of potential improvement in your own contract management standards and procedures, LinkSquares created our newest eBook: "7 Ways to Improve Your Contract Management Workflow".

There are seven common mistakes that legal teams make when it comes to managing your contract drafting and execution process. If you live and die by contract deal-flow, you should look for these seven warning signs:

1. Are you using too many contract drafting tools, so there's no one way or place to start your drafting process?
2. Do you have too many competing "templates" for the same type of contract, leading to non-standardized contract language?
3. Are your contract tools "disconnected" from the rest of your workflow (and each other), with files getting manually transferred (or lost) between each software application?
4. Are you blind to the status -- in draft, redlined, out for signature -- of any (or every) contract?
5. Are you trading disconnected redline versions of contracts with other parties, leading to "version confusion?"
6. Are contracts stored in multiple, disconnected systems, so it takes extra time to find vital documents?
7. Are you doing contract due diligence "by hand," bogging down your analysis and completion of deals?

From pre-signature contract creation, to contract execution, through contract storage and analysis, "7 Ways to Improve Your Contract Management Workflow" lays out exactly what your own process -- and contract management software -- may be missing. LinkSquares' newest eBook then goes further to help you select contract management software that streamlines, standardizes, and even automates these techniques.

If you're ready to optimize your contract management process and choose the best possible software for your unique contract management needs, download"7 Ways to Improve Your Contract Management Workflow" now.

And if you're ready to adopt an end-to-end contract management and analysis solution that embodies each of these seven best practices -- and uses cutting edge artificial intelligence to automate much of the contract management grunt work -- then you should contact LinkSquares today.