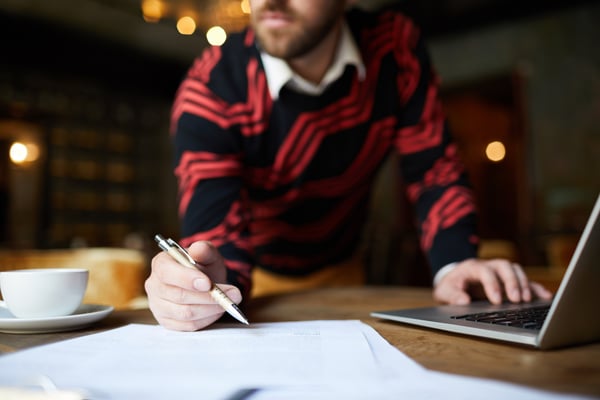 Edit on February 9, 2021:
Given the popularity of this blog article, we published an eBook on this topic. Download it
here
.
The right e-signature platform makes doing remote business easier, gives your company "green" status, and improves document security and administration. Adobe Sign and DocuSign are both leading electronic signature platforms. HelloSign and PandaDoc are also in the running now. They all have important differences. Let's take a look and see which is best for your business.
What is DocuSign?
DocuSign deploys on the cloud and in the mobile space, making signing documents convenient regardless of location.
It offers a range of plans, starting from its Personal Plan for up to 5 signatures per month, all the way to the enterprise plans, with capabilities to support the Global 1000.
Using DocuSign, you can present a professional platform to signees on the fly. The company designed its user interface so that users can sign and manage documents anywhere. You get security with full encryption that is also tamper evident.
When using DocuSign, you also gain the advantage of a freemium and free trial option if you only need a few signatures per month.
What is Adobe Sign?
With licenses available for up to 499 users, Adobe Sign is meant for large enterprise businesses. It can also work for small and midsize companies as well as nonprofits. You get good workflow management, an accessible user interface and you get document sealing and auditing along with the basic functionality of the platform.
Accessibility is a huge component of what makes the Adobe brand successful. If you already have an infrastructure of outside applications, you will be able to easily integrate Adobe Sign into your program. The UI works well in the cloud, and it has a mobile app as well.
Adobe Sign has a subscription service, but it does not have a freemium option. Its user license range is from 100 to 499, and it does not have an option for smaller companies, unlike DocuSign.
What is HelloSign?
If you know only one thing about HelloSign it should be this: It's the e-signature solution that comes bundled with Dropbox. Before being acquired by Dropbox in 2019, HelloSign was the plucky upstart in the e-signature app market, and that shows in its pricing.
One of the best reasons to try HelloSign is if you're a small operation, because it offers a free 30-day trial and has the lowest entry-level price tiers. The trade-off here is that HelloSign has the slimmest feature set and their user experience isn't as refined as DocuSign. HelloSign is a perfectly adequate solution, but you're not getting any of the premium options the rest of the big four offer.
What is PandaDoc?
PandaDoc is a proposal drafting and workflow suite that includes an e-signature tool that you can purchase as a standalone solution.

PandaDoc is a full proposal-drafting suite originally designed for creating legal agreements on behalf of advertising agencies, convention hotels, and other service-providers that need to conjure up bespoke contracts from boilerplate components. The PandaDoc e-signature tool is a complement to that suite.

If you're using PandaDoc to draft contacts, obviously there's no reason to use a different e-signature tool. If you're drafting contracts elsewhere, PandaDoc isn't as useful, but does offer a few specific features that may be worth paying for, since PandaDoc is far from the least expensive top-line e-signature option.
Which Should I Choose for My Business?
When it comes to Adobe Sign vs. DocuSign, you should first consider the needs of your company and the options that each solution provides.
Mobile Platform: DocuSign has a better mobile platform than Adobe Sign. If you are on the road getting signatures at events in real time, DocuSign will usually be your preferred option.

Security: DocuSign also slightly outpaces Adobe Sign when it comes to security for SMB. However, if you have a large scale enterprise to consider, Adobe Sign has a more expansive web of security.

Company Size: DocuSign is a great solution for small, growing, and enterprise level businesses since it offers flexibility in number of users starting with the freemium plan all the way up to enterprise options. AdobeSign is geared toward user licenses between 100-499, so is meant for a more specific size company.

Usability: Having an accessible user interface is important for your logistics. Difficulty getting the signatures you need can slow down your business. DocuSign has an interface that you do not have to be an expert to understand, which puts it ahead of Adobe Sign.
If there is a specific feature or integration you need that only Adobe Sign, DocuSign, HelloSign or PandaDoc offers, your choice is simple. But all four solutions cover most of the major digital signature use cases, so the choice isn't often so obvious.
HelloSign is the least expensive solution, and is the best choice for small or even one-person legal teams. And if you're using Dropbox or reliant on e-faxing, it's a clear winner.

DocuSign has the best user experience, especially on mobile devices. So if ease of use for signatories is your primary concern, you can't do better.

PandaDoc is the clear winner if tracking signatures -- especially signature order -- is a big concern. If you want to accelerate time-to-close on your sales contracts, PandaDoc will help you monitor and manage that metric. But you'll pay for it.

Adobe Sign is enterprise-grade all the way -- with the major software integrations, price supports, and service tiers to match. If your digital signature solution has to integrate with a complex corporate security infrastructure and complicated document workflow tools, Adobe Sign is probably the best fit.
Want to read an in-depth analysis of the similarities and differences between the four platforms? Check out our eBook Adobe Sign vs. Docusign vs. HelloSign vs. PandaDoc: Which is Better for Your Legal Team.
Updated 2/9/21