The LinkSquares team is gearing up to exhibit at CLOC 2019, taking place in Las Vegas from May 14-16. CLOC's mission is "to help legal operations professionals and other core corporate legal industry players (e.g. tech providers, law firms, LPO's, law schools, etc.) to optimize the legal service delivery models needed by small, medium and large legal departments and government entities to support their clients."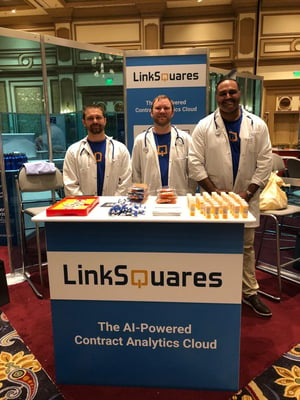 We're looking forward to valuable face time with our clients, meeting new practitioners in Legal Ops, plus gaining insights from leaders in the industry. Here's what we're most excited about on the agenda so far:
Session: Re-designing Legal Processes in the Age of Machine Learning
Why We're Excited: We love AI, especially in the legal ops space, and we're looking forward to hearing more about other applications of machine learning. Of course, we'll be talking all about AI for contract analysis at our booth, but we also love learning about other trends in the industry!


Session: Legal Innovation on the Rise | What Comes Next in Automation 2.0 (Advanced)
Why We're Excited: It's no secret that at LinkSquares, legal innovation is a top priority. As we're continuing to build the contract analysis revolution, staying ahead of the curve is important. We're looking forward to hearing Chris Kraft of Mitratech's perspective on legal automation at CLOC 2019!
Session: Getting Your Contract Lifecycle Transformation Project to Deliver on its Promise (Advanced)
Why We're Excited: We're passionate about making contract lifecycle streamlined and efficient. One of our biggest goals as a AI-based contract analysis platform is to take the weight off of your legal team, so that they can focus on other aspects of the job. The team at PwC is sure to provide in-depth analysis of the contract lifecycle and what can be done to improve it.
Session: Creating the New Legal Ecosystem in a World of Innovative Tech and Service Providers
Why We're Excited: The ability to streamline processes is a highly important component when choosing your legal ops technology. Without integrations, data sits in a variety of locations, ultimately creating more work for your team. At LinkSquares, we strive to create a seamless process for contract management and analysis. We want to continue to learn about the legal ecosystem and ways that we can contribute to the ease of implementing these processes.
Meet LinkSquares at CLOC 2019
Don't forget to visit LinkSquares at booth #82 in the exhibit hall while you're at CLOC 2019! You'll get to meet the team, see a product demo, and play some fun games to win awesome LinkSquares swag!