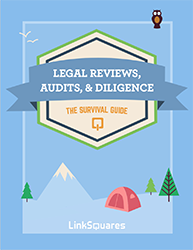 There are countless unpredictable situations during any legal review, audit or diligence request. All you can do is put your best foot forward, be thorough, and be prepared.
To help with all of this, we've created a short e-book to provide some insight on these scenarios. You can download it here.
If you are curious to learn more, read through this expert below:
"Managing contract reviews can be a challenge for your legal team. Companies have a lot of nancial and legal require- ments when it comes to running a business. Every contract that gets signed is different and when someone has a request about a specific contract detail, finding that information can be manual, time consuming and frustrating. Whether you're fielding a request from your CEO, pulling documents for your latest insurance audit or trying to review and reduce risk for customers, there are many unforeseen situations that are important to understand at a high level."
If you work as a general counsel, VP of legal or contracts manager, this ebook could come in handy as you help your company with financing or sales issues around customer contracts. Download the book today and learn more!
http://www.linksquares.com/resources/survival-guide